International Yoga Day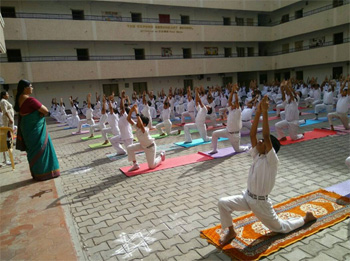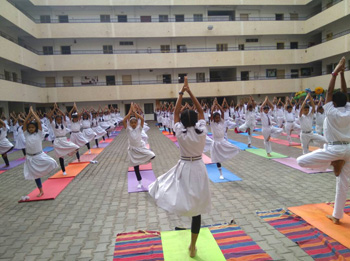 STUDENTS EXPERIENCED THE HOLISTIC WAY OF LIVING
International yoga day was celebrated in The Oxford Senior Secondary School on 21st June 2017. Students of grade VI and VII cordially participated in Suryanamaskara. Yogasanas were conducted under the guidance of yoga teacher Mrs.Monica and she delivered the speech on "The father of Yoga "Maharishi Patanjali and gave a significance of why we celebrate yoga day. The session started with "OM kara" the eternal sound of Universe. Suryanamaskara and various asanas invoking the sun god were performed, apart from Vrukshasana, Trikonasana, Parivrattatrikonasana, Vasishthasana among others. Anulom Vilom nadishuddhi Pranayama brought the internal awareness among the children.Yoga not only reduces the stress,but also helps one to be lively throughout the day,brings stability among children, develops better memory and concentration,leads to better posture ,develops discipline and dutifulness,boosts optimism.Yoga helps to increase positivity and improves blood circulation to the brain.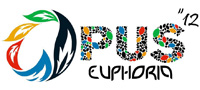 Inaugural Report on school fest- OPUS – Euphoria- 2012
INTERNAL CO-CURRICULAR ACTIVITY
"To inculcate learning by doing" our Nursery section had a whole range of Theme based programs like 'Tiger Project', Environment day etc. To showcase the talent of our tiny tots competitions like Art of speaking, singing were conducted.
Various interhouse events were conducted focusing on overall development of the child. some of the activities conducted were :

pottery classes
finger puppet making
pot painting
vegetable carving
statue making out of clay
musical drawing
situation act
salad decoration.

      
In the month of November 2012, Vijaya Bank conducted Hindi competition in 'The Oxford Senior Secondary School' .Students of Class VIII to XII participated and won many prizes. The Senior Manager of Vijaya Bank gave away the prizes.
National Book Trust, India conducted Quiz programme in Mathematics to mark the importance of International year of Mathematics. Mr.Amit Karki, Regional Manager, National Book Trust, India has sponsored the prizes.
NIE
The Oxford Senior Secondary School has been participating in NIE Programme hosted by the country's leading newspapers, 'The Hindu' and 'The Times of India' for the last two decades. The students' edition of this newspaper is dedicated to educate and develop our children holistically. It promotes literacy and encourages social awareness.

Participation by the students in various NIE competitions like Young World Quiz competition(by the Hindu group), Spell Bee (by the Times of India group) and Model Making competition was encouraged (topic : Go Green, Save Forest, by Times of India). Jayanth R won I Place in Young World Quiz conducted by Hindu and won a cash prize of Rs.5,000/-
TIE (Theatre In Education)
Sankula 3G Theatre presented 'Narinia', a rich colourful kannada play on 29th October 2012 at K.H.Kalasoudha Bangalore. It was directed by Mr.Ashok Nittur and children of class VII & VIII participated in it.
Flora Day (Nursery Section)
Flora Day" (Flowers) was celebrated on 13.07.2011 during the morning assembly. It was a pleasant delight to watch children assemble in colourful attire, wearing masks, crowns and holding flowers of a variety. Class teachers chose flowers like Lilies, Zinnias, Asters, Hibiscus, Rose , Marigold, Lotus, Sunflower & Tulips of blue & orange in colour. Information about the flower chosen was spoken about by the student during the assembly. The programme concluded with a pledge. "I will not pluck flowers from the garden."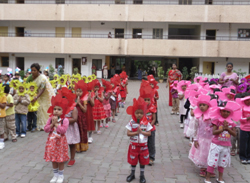 Internal CCA Activity Conducted during the Month of July 2011.
| | | |
| --- | --- | --- |
| Date | Class | Event |
| 15-7-2011 | I – IV | PHOTO ALBUM MAKING |
| 16-7-2011 | V – VIII | STREET PLAY |
| 16-7-2011 | IX & X | VEGETABLE CARVING |
| 16-7-2011 | XI & XII | 60 SECONDS TO FRAME |