PROSPECTIVE RESOURCE PERSONS TRAINING PROGRAMME IN HAPPY CLASSROOMS CONDUCTED BY C.B.S.E. COE CHENNAI
ON 13-09-2019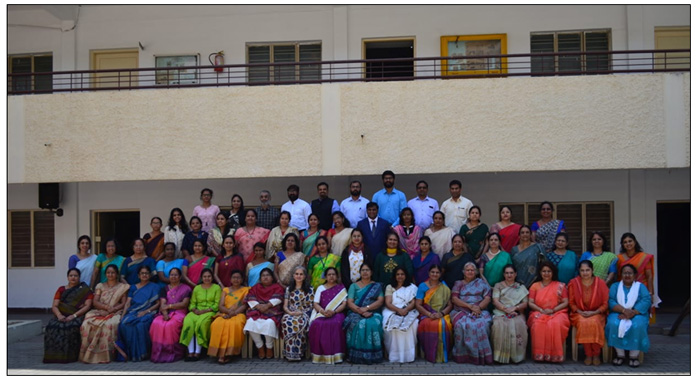 COMPETENCE BUILDING IN MATHEMATICS CLASS X
ON 25-10-2019 & 26-10-2019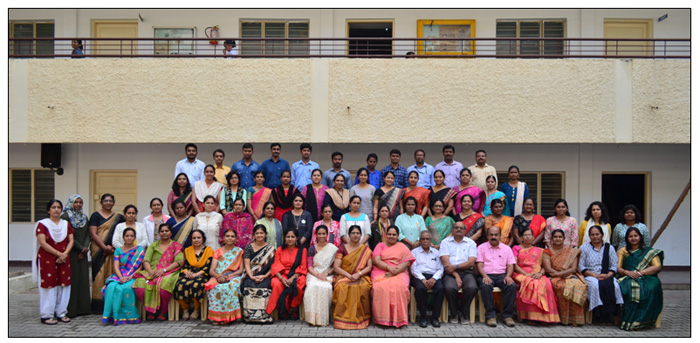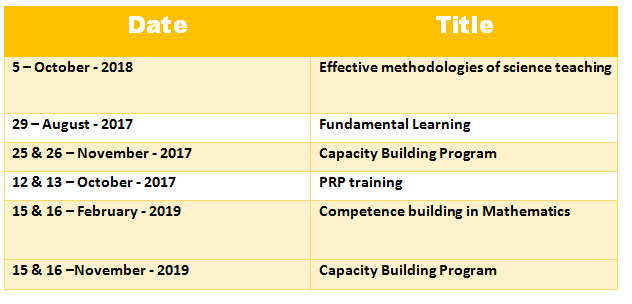 Teachers orientation programme conducted at the beginning of every academic year.
To Motivate teachers in order to bring out cordial atmosphere in the classroom.
To train teachers in helping the students to learn time management skills.
To equip teachers with the skills on effective teaching in the 21 st Century.
To equip teachers with the modern methods of teaching.
These sessions are rich in terms of content and value points not only for the new teachers but also for the senior teachers.
WORKSHOP & ORIENTATION PROGRAMME
The school conducted Chemistry Orientation programme in the month of September 2010. Teachers from 30 schools across Bangalore attended this programme.The resource person was Mr.Abdul Rahim
The school conducted Physics Orientatonprogramme on August 4th 2012.Teachers of Class IX to XII from 60 schools across Bangalore attended this programme. Topics discussed were Class XII AISSCE Examination system, syllabus, blue print of question paper and value based questions.The Resource person was Mr.NellakantaPillai.
Some of the workshops attended by our teachers were :
chemistry workshop conducted by Kensri School
Mathematics workshop conducted by SahodayaVidyalaya
Commerce Orientation programme conducted by Sahodaya
Computer Science workshop conducted by Oxford University Press.
The year 2011 was celebrated as International year of chemistry in which various events for the children were conducted from classes vi through xii. To name a few we had events like quiz,exhibition,presentations based on the life and achievements of Individuals who contributed to the subject.
The year 2012 is celebrated as National year of Mathematicsin which our school conducted many activities related to the subject like Quiz, special assembly programmes to emphasize the importance of Mathematics. Students actively participated and the prizes were sponsored by National Book Trust.